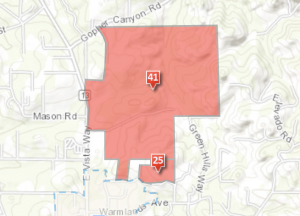 ANNEXATIONS WILL CAUSE MORE TRAFFIC GRIDLOCK
Two applications for annexation of county land into the City of Vista are being reviewed by the city's planning department.  The first is a 16-acre parcel (#25 on the map) on Vista Grande Drive for development of 14 homes on one-acre lots.  An inadequate environmental review was conducted by the city which completely ignored the daily rush hour traffic gridlock on East Vista Way, among other issues.  Vista's Planning Commission will be reviewing the proposed project on Tuesday, December 6th, at 6:00.  Please attend to make your voice heard.  The meeting will be held at the Vista Civic Center, 200 Civic Center Drive, on the second floor.
If this annexation takes place, it opens the door for the second annexation–a whopping 300 acres of prime farmland known locally as Strawberry Hill (#41 on the map).  In order to annex into the city, a property must border the city.  At the present time, the Strawberry Hill acreage shares less than 400 feet of land contiguous with the city boundary.  If the Vista Grande Drive annexation takes place, the Strawberry Hill farm will have an additional 700+ feet of contiguity with the Vista boundaries, which makes it far more likely that an annexation could go through.
GuARD strongly opposes both annexations because of the loss of prime farmland and loss of county control of our semi-rural area.  The City of Vista is concerned with grabbing as much land as possible to urbanize our area and gain tax revenue.  The integrity of our local neighborhood is not of interest to the city.  GuARD strongly advocates for keeping our area under the San Diego County General Plan land use designations, which supports the semi-rural character of the community, and limits sprawl development.
To view all of Vista's proposed development projects and annexations, look at the City of Vista Development Projects Map.